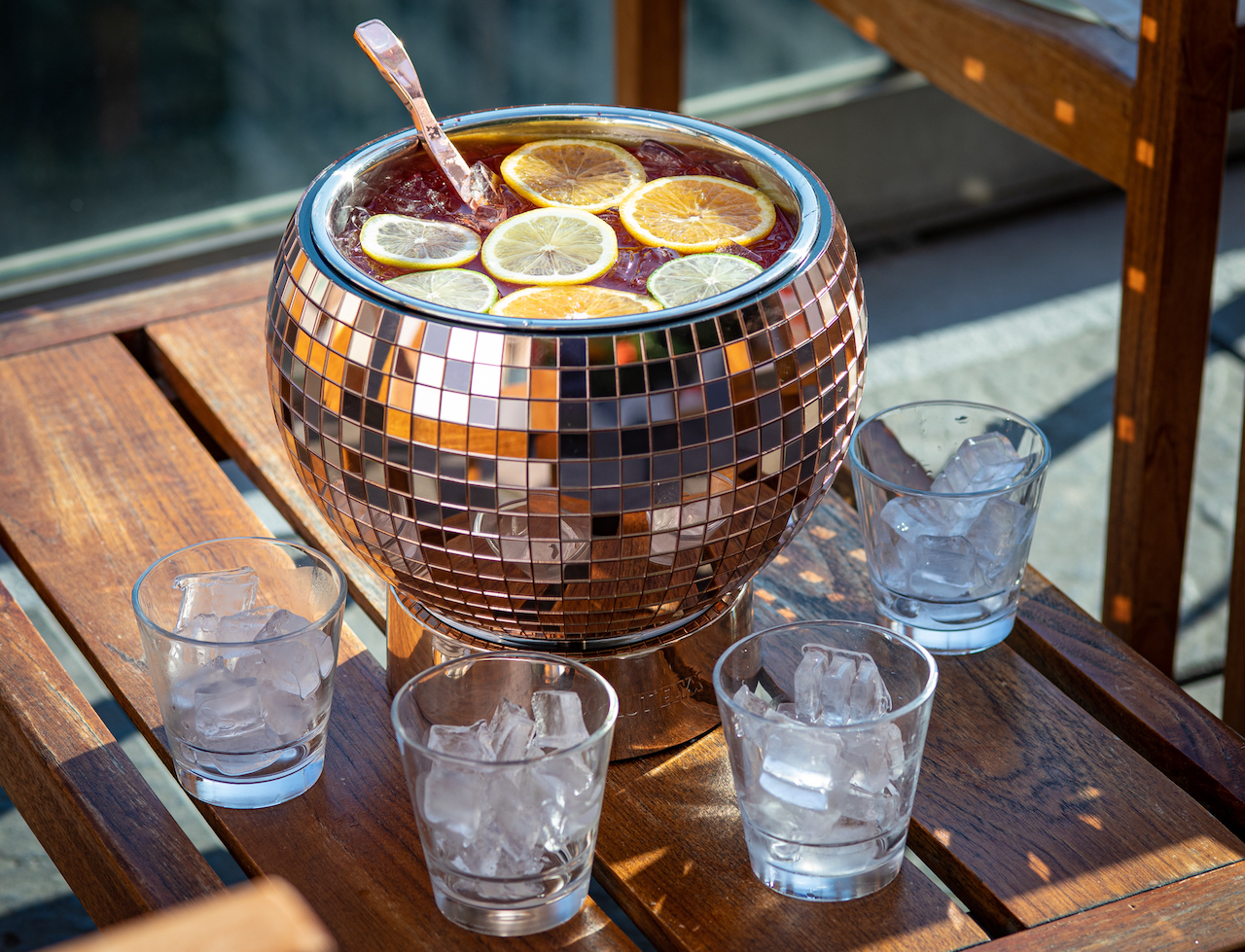 Where to get food and drink before, during and after Lollapalooza
the dear-born
Diners can choose from Cinnamon Monkey Bread, Apple Hollandaise Pancakes, Buffalo Chicken Sandwich, Grilled Cheese with Roasted Pears, and more. Dearborn's Tavern Style pizzas are also available during brunch. A variety of brunch cocktails are also available.
The Smith
Located in Chicago's River North neighborhood and steps from the River Walk, The Smith features a patio along Clark Street. Happy hour is available Monday through Friday from 3:00 p.m. to 6:00 p.m. and includes $2.00 oysters, $6.00 snacks, and $10.00 cocktails. Diners can also select their signature Mac & Cheese before heading to Grant Park.
FireLake Grill House and Cocktail Bar
Steps from the annual festival, FireLake Grill House & Cocktail Bar offers lunch and dinner throughout the festival weekend (July 28-31). To fuel up for the festival festivities, choose from a smoked rope sausage macaroni and cheese ($15), featuring house-smoked pork sausages, Wisconsin aged cheddar beer cheese and truffle sourdough breadcrumbs. To accompany, sip La Mariposa ($16), a cocktail made with Patron silver tequila infused with butterfly pea flower tea, St. Germain elderflower liqueur, fresh lime juice, lemon juice, pineapple and drizzled with tonic water.
ROOF on theWit
During the Lollapalooza weekend, ROOF offers 10% off its menu of large format cocktails (for 10-12 people) like Night At The Framboises ($175) and Pernod-Ricard bottles: Jameson, Absolut, Absolut Elyx and all Avion bottles. ROOF also offers a menu of late-night shareable bites like pizza and sushi, to refuel before or after the festival. Thanks to ROOF's retractable roof, keep the party going come rain or shine.
by Petterino
Petterino's has reopened under new ownership with a refreshed interior, outdoor dining area and menu and beverage program led by Executive Chef Ozzy Amelotti. Chef Ozzy will serve up classic Petterino dishes like Prime Meatballs, Chicken Piccata and Bone Marrow Risotto Milanese. In addition to classic Italian dishes, Petterino's also offers dishes like Black Angus cheeseburgers, homemade pastas and pizzettas.
Bar Mar by Jose Andrés
Located at the Bank of America Tower in Chicago, Bar Mar offers fresh oysters, ceviches and chef José Andrés' interpretations of seafood classics like fried calamari and lobster rolls – for a before-after- or a break during the heat of summer festival days in Chicago.
burrito beach
Burrito Beach Mexican Grill is a quick and casual destination to order fresh food before you see your favorite act. Their downtown Streeterville location at 200 E. Ohio Street is offering a Lollapalooza special all weekend from July 28th through July 31st. All passholders who present their wristband in-store at this Burrito Beach location will receive a free guacamole with the purchase of any admission. Burrito Beach Ohio Street will be open all weekend Lollapalooza, Thursday and Friday from 8 a.m. to 9 p.m., Saturday from 10:30 a.m. to 9 p.m. and Sunday from 10:30 a.m. to 7:30 p.m.
Stan's donuts and coffee
Stan's Donuts & Coffee offers a breakfast and coffee menu. From croissant sandwiches to cold infusions and don't forget donuts, Stan's has both sweet and savory options. Stan's 1 has 5 locations, including their Millenium Park location just steps from Lollapalooza located at 181 N Michigan Ave.
epic burger
Epic Burger Lolla offers:
Classic Epic – Black Angus beef patty, cheddar, lettuce, tomato, pickle, grilled onion and Epic sauce, served on a brioche bun.

Double Epic – Two Black Angus beef patties, cheddar, lettuce, tomato, pickle, grilled onion and Epic sauce, served on a brioche bun.

Beyond Burger – Beyond Meat vegetable patty, avocado, lettuce, tomato, pickle, raw onion and vegan mayonnaise, served on a wheat bun.

Epic fries

NEW MENU ITEM – Epic Cheese Fries

Shakes – Vanilla, Chocolate, Strawberry
*all burgers are topped with epic sauce, pickles, lettuce and grilled onions.
The Goddess and the Grocer
The Goddess has in store for festival-goers this year:
Goddess Beef Burger

Goddess Veggie Burger

Bowls of fried rice and vegetables, chicken or tofu

10″ Pizzas: Margherita, BBQ Chicken & Pineapple and Pepperoni

Sweet potato fries with curry mayonnaise
mother's ruin
Mother's Ruin's late-night menu features Mother's Double Cheeseburger, Spicy Chicken Sando or Old Bay Waffle Fries, and top it all off with one of the specialty rotating cocktails.
Mother's Ruin offers a full menu of food and drink from 11:00 a.m. to 2:00 a.m. daily.
Pizza Roots
Less than a mile from the festival grounds, Roots Pizza – South Loop will be hosting its Lollapalooza pregame party Thursday, July 28 through Sunday, July 31, starting at 10 a.m. The Roots Pizza weekend brunch menu will be available from 10 a.m., including its lunch and dinner menu of the day offered throughout the day. Specials will include bottomless mimosas, jello shots, beer pong, jumbo Connect Four and a DJ.