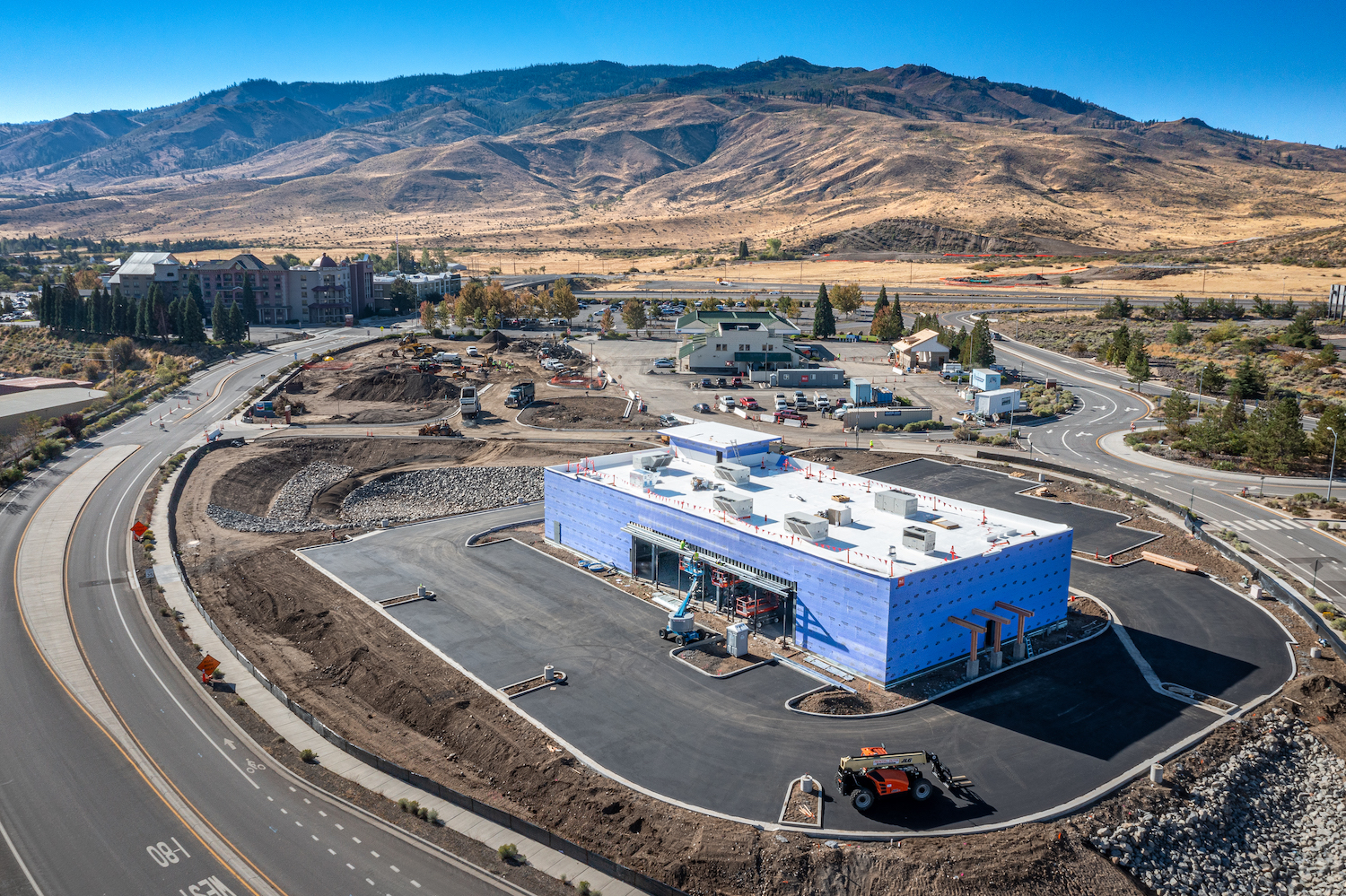 Reno's Boomtown will open a new dining and gaming option
Verdi residents will soon have a new local dining and gaming option.
The handful of businesses on the old Highway 40 have benefited from increased footfall from the influx of new Verdi residents, and the Verdi Grill House and Casino in Boomtown will be added to the mix in the first quarter of 2023.
The 10,000 square foot building constructed by BLC Builders will feature a 2,000 square foot restaurant and bar, as well as an outdoor patio. The facility is owned and operated by Boomtown and will be geared toward residents, said Rob Medeiros, Boomtown's chief executive and general manager.
"One of the good things about (Boomtown) is there's a lot of parking, but there's not a lot of parking nearby," Medeiros said. "Here, there is closed parking on all sides of the building."
Construction is expected to be completed by the end of the year, but the facility itself will not open until the first quarter of next year. Medeiros said that once the facility is fully furnished, it will likely need some tweaking to ensure internal traffic patterns around the slot banks, restaurant and restrooms run smoothly.
"We'll set it up and set it up and then we'll bring people in and make sure we understand what we can do well and do quickly," Medeiros said.
Some staff from the main Boomtown property will move to work at the Verdi Grill House and Casino, which is expected to employ up to 60 people, he added. The casino floor will be strictly for slot machines and smoking will be permitted. The Grill House menu items, meanwhile, will be fine casual dining.
This is the first project for general contractor BLC Builders, led by Mark Folgner, longtime senior project engineer at DevCon Construction. Folgner said the new building is a pre-engineered steel structure and that due to the long lead times that have become common in the construction industry, BLC Builders and Boomtown executives have worked hand in hand to pre-order key items such as mechanical equipment and structural steel before the ink is even dry on the contract. The floor underlayment system, critical for slot placement, had a six-month lead time, so it was also ordered early, Folgner said.
Building materials began showing up in March, and Boomtown stocked them on site ahead of BLC's groundbreaking in April.
"There was a lot of anxiety on our side," Medeiros said. "But we relied on (BLC), the architect and the engineers to figure out the best way to do it given the environment."
The presence of key construction materials on site allowed construction of the building to move forward quickly, Folgner added.
"It helped with planning and budgeting," he said. "As we sat there amidst material prices increasing 20% ​​per month, Rob worked with us and with our subcontractors."
The long delays also led to rethinking the insulation of the building's roof. Instead of using rigid foam insulation above the exterior sheathing, materials that had a 30 to 40 week lead time, BLC Builders changed the plan and instead laid the installation below the roof sheathing.
"It was because of Boomtown's willingness to listen to us and work with us," Folgner said.
The new casino and restaurant are located where the original truck stop was in Boomtown – the new Verdi Casino's gaming license was acquired from the truck stop. Medeiros said Boomtown executives considered several better uses for the land, and with the high volume of new homes already in the area and many more to come, a roadhouse just wasn't the best option.
Verdi's new communities include West Meadows, Meridian 120, a 242-unit apartment complex being built by MBI, and the sprawling Mortensen Ranch development on the south side of Highway 80.
"We tried to figure out what we could do here that would fit in with the community," Medeiros said. "Things have changed here. If you go back 20 years ago there was basically Boomtown and the fire station across Garson Road. But with the sale of the land and the construction of houses, there are probably around 3,000 houses planned.
"The truck stop didn't fit that well, but we knew there would be houses all around us."
The site includes a future commercial development of approximately 18,000 square feet divided between two buildings. Tenants will likely be businesses that attract travelers from Interstate 80 and the surrounding residential community, Medeiros said. Boomtown will be waiting for a few more rooftops in the area to ensure retail tenants have a better chance of success.
Boomtown had a special use permit to develop a truck stop on the west side of Cabellas, but instead opted to sell the approximately 27-acre parcel to Dermody Properties, which plans to construct two additional industrial buildings on the site, said said Medeiros.
This current phase of growth further strengthens Boomtown's presence at Verdi and adds additional revenue streams. Medeiros said the ownership group continues to reinvest in the property — the hotel rooms, lobby, gift shop, buffet and convenience store have all been renovated in recent years, and the entertainment center is next. .