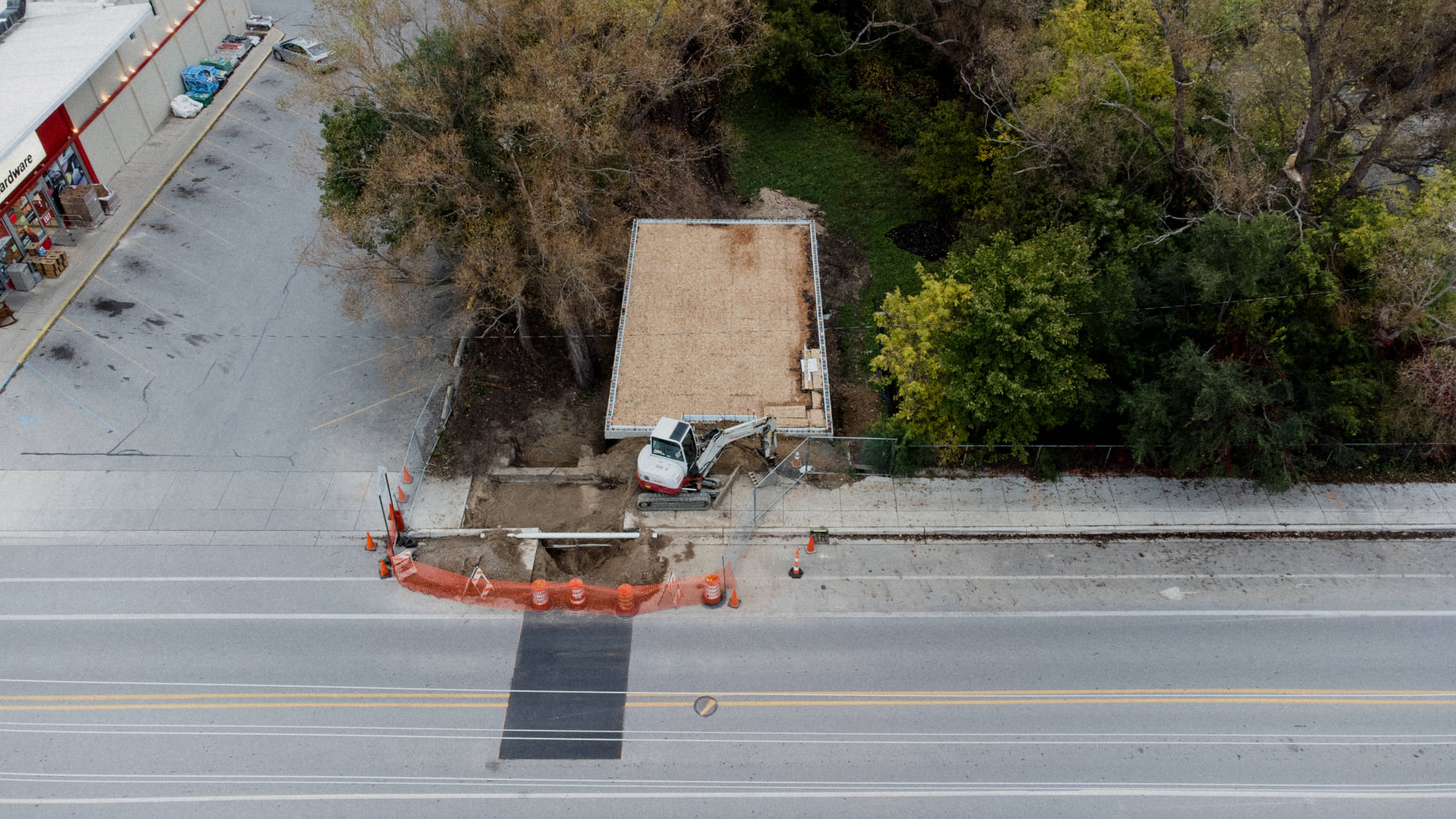 Mundos opens the West Front café; More information on restaurants, retail
Mundos Roasting & Co. will be opening a new cafe on West Front Street next spring – one of three new coffee shops in Traverse City amid a list of restaurant and business openings, closures and moves from detail that take place in the area.
Dan Clark is aiming for an opening in May for Mundos West, its third Mundos location after the Boon Street location in Traverse City and the North Saint Joseph Street location in Suttons Bay. The 1,300 square foot cafe will be located in a new building under construction next to Ace Hardware on West Front Street along Kids Creek (pictured). Clark says the store will be smaller than the other two locations, but will feature a breezy interior with 14-foot-high ceilings and abundant natural light, fast "in-and-out service" and additional outdoor seating.
"There will be seating inside, but lots of bars and standing tables, like an Italian cafe," says Clark. "One of the coolest things about it is that there will be several different patio levels near Kids Creek to relax in there and in front of the building." Mundos West will have the same coffee offerings as the other two stores, but will have its own unique menu, according to Clark. He says he's been looking for a downtown location since starting the business, but didn't want to be located in the main blocks of Front Street.
"The outskirts are more of our vibe," he says. "I love the cove, of course, and the beauty of this area. You have the impression of being in nature at the same time that you are in the city. And I like the convenience of being close to Munson and the Slabtown area. Mundos West is one of the many companies bringing new energy to West Front Street: in addition to the recent reopening of Lil bo under new ownership, new neighborhood restaurant and brasserie Loco Boys Brewing Company is aiming for an opening in early spring 2022 in the old Impres Salon Spa building, while the bakery and restaurant Modern bird should open in late January or early February next to Mary's Kitchen Port.
Two other cafes are also arriving in Traverse City. MaryAnne MacIntosh plans the December 7 opening of a new Biggby Coffee BCubed location near Menards at Chums Corner. MacIntosh says Traverse Connect and the Traverse City Pit Spitters will be on hand to commemorate the launch, with a ribbon cut scheduled for 9 a.m. BCubed is a drive-through, walk-in cafe with no seats inside; stores are intended to fit on small packages and encourage prompt service. MacIntosh also received approval from the Garfield Township Planning Commission this month to open a second Biggby Coffee BCubed store in Cherryland Center, adjacent to Burger King. An opening date for this location has not yet been set.
Other openings, closings and moves …
Yoga returns to East Front Street in downtown Traverse City as Dharamsala TC prepares to open a second studio (the first is located on Robinwood Court) at 317B and 319 East Front Street. One of these spaces previously housed Gitche Gumee Company, which closed its doors. Co-founder Kay Epple says Dharamsala on the front, as the downtown location will be called, will have two connected studios with floor-to-ceiling windows and balconies overlooking the Boardman River and Grand Traverse Bay. The female-owned and operated studio focuses on "mindfulness and a healthy lifestyle" through a variety of classes offered for all ages and abilities. The city center location is currently undergoing renovations ahead of a scheduled opening in late January. "We love where we are (at Robinwood Court) and have an amazing community there so we didn't want to lose that base, but we heard a lot of people tell us how convenient it would be if we were in the center – city, "Epple said. of the decision to open a second studio.
After six years of activity, Sweet Tartlet closes at the end of the year at 445 East Front Street. Landlord Sarah Steele says the upcoming expiration of her lease and the desire to take a break and spend more time with her family has prompted her to close her doors. Steele says she "goes out with a bang," however, producing chocolates, candies and other goodies for sale during the holidays. The last day customers can place advance orders is December 24; the last day of store opening will be December 27. Steele says she plans to do occasional pop-ups in 2022, like selling Valentine's Day treats (pop-ups will be advertised on social media).
Several other changes are underway in downtown Traverse City. My Secret Stash owner Karen Hilt has taken over the old Bookie Joint space at 124 South Union and is expanding My Secret Stash's plant selection in the new store, called I am Planty AF. The store, which is currently undergoing renovations, will carry hard-to-find exotic plants as well as everyday houseplants from the collections of Hilt and its business partner Garrett Weslock. "We'll also have a great selection of both common and rare houseplants, with a fantastic group of aroids, anthuriums, tillandsias, cacti, succulents and more," Hilt said, noting that the duo used a private greenhouse downtown to grow and propagate plants. The partners are aiming for an opening on December 4 and plan to continue upgrading the space through the winter and spring to offer a soil bar and terrarium, potting services, a "plant hospital" and accessories. and plant-related home accessories, according to Hilt.
Around the corner in the warehouse district, The workshop brewing company provided Archie's Food Truck – previously stationed at The Coin Slot – to take over the brewery kitchen. Archie's menu includes a variety of burgers and sides, including sold out cereal pretzels, home-smoked chicken wings, and macaroni and cheese. Also in the city center, several local water points embellish their outdoor service areas. Brady's Bar has a new patio at the back, with owner Nolen Sleder sharing that the company has cleaned up the parking lot "and made a lovely space for winter events". She adds: "I hope we will still be open certain days of the week during the summer. " Traverse City Whiskey Company and Silver spruce brewing company are also in the process of renovating their outdoor terraces.
A new mozzarella and specialty grocery store has opened at Oleson's Plaza East on Hammond Road. Buzzelli Foods specializes in making New York-style mozzarella balls, pickled knots and burrata, as well as takeout sandwiches and salads, Italian groceries, and kitchen specialties and gifts. The store is open Tuesday to Friday (closed Saturday to Monday) from 7:30 a.m. to 3:30 p.m.
Finally, two stores in the region are under a new owner. After three decades of family ownership, Diane Eagle retired and took over the reins of Falling Tide Resale Shop at Logan's Landing in Beth Yoder. The consignment store itself will remain the same, offering a wide variety of clothing, furniture, books, household items, and other items. At Kingsley, Karla Blackmer and Stephanie Bugai have closed Kingsley Flowers and Gifts at 104 North Brownson Avenue and ceded the space to Kait Olds, who reopened as Olds Floral & Design. Olds was already growing and selling fresh cut flowers in Kingsley and will continue to do so in his new shop, which also offers monthly workshops, flower subscriptions, and arrangements for weddings and events. Olds rents the space from Blackmer, who continues to own the building with her husband.
Photo credit: Mundos Roasting & Co.