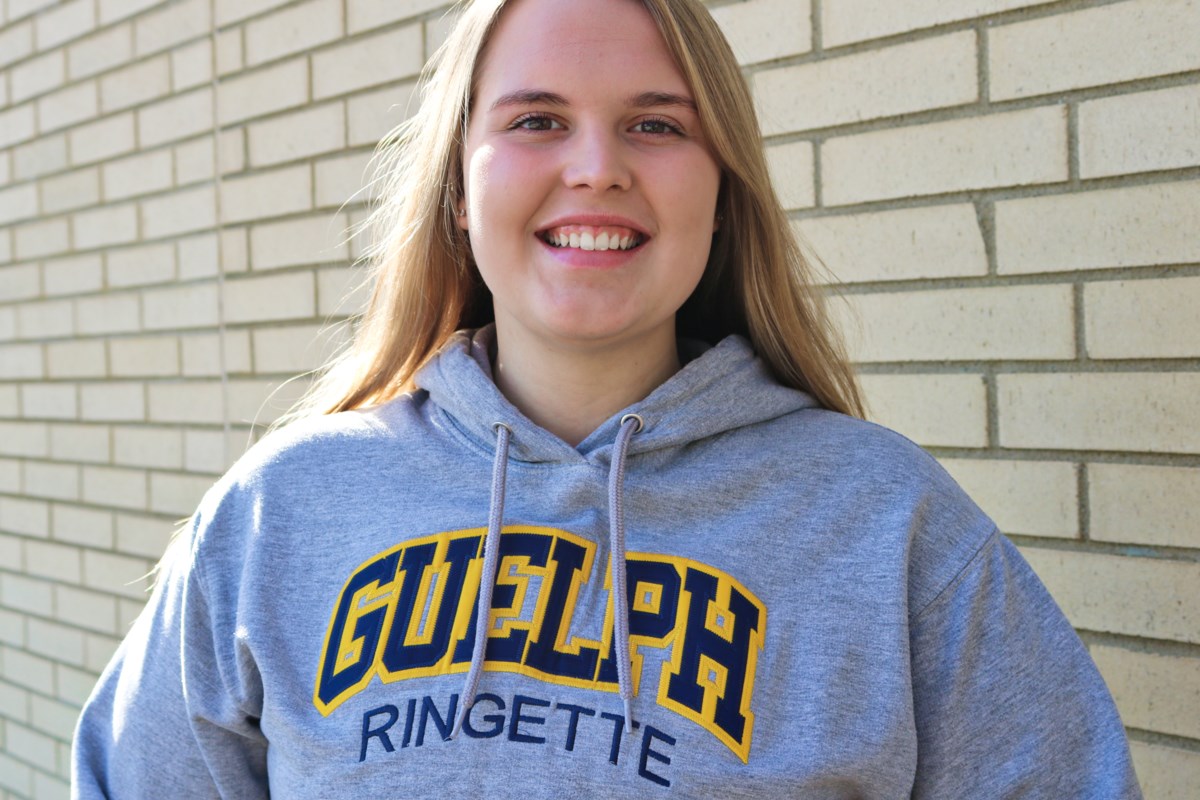 Guelph ringette and a Team Ontario player raise the bar for youth
Ringette has been a part of Julia Mezenberg's life for as long as she can remember and she loved every second of it.
The former Guelph Predators player and former Team Ontario player is setting an example for young players in the region through officiating and power skating sessions. She is also the executive of the University of Guelph ringette team.
"I love ringette, it's a huge part of my life and it's taught me so many skills," Mezenberg said.
Satinder Chane, vice-president of the Guelph Predators Ringette Association, said Julia is a great role model and influence for many in the organization, especially as a referee for young players.
"She's so adorable. She's always smiling, always pleasant," Chane said. "Julia is definitely one of those people my kids look up to too."
"It melts my heart," Mezenberg said of being called an inspiration. "I know how much of an influence older girls have had on my life as a kid, and knowing that I'm doing this is really inspiring, really makes me so happy, because I want to give back to the sport that gave me so much. , and the association too."
Mezenberg, 20, was introduced to ringette when he was one year old. Both of his parents, John and Jen, were president and treasurer of the association and each coached Mezenberg from age three to 19.
"I loved having my mum as a coach, but it was really cool to have my dad as a coach just because he knows the sport so well. My mum has always been my biggest supporter, but my dad is my main motivator and knowledgeable expert," Mezenberg said.
Another big influence in Mezenberg's passion for ringette is his older sister, Jessica. After watching her matches, Mezenberg said she and Jessica would analyze the match. She mentions that Jessica is still involved in ringette as a referee.
"Inspiration to keep playing, inspiration to do well and great teamwork as well as a role model, needing someone to look up to and Julia is definitely one of those.
"The reason I have the knowledge I have about the sport itself is to watch her play," Mezenberg said. "She was six years older than me, so I was able to watch them play almost every game and I was able to see, analyze and learn."
Although she enjoys competition, Mezenberg said she enjoys playing as a team.
"All the girls I've played with, played with since I was five or six," she said. "At some point you're not friends anymore, you're family and I love that."
Having played most positions, Mezenberg enjoys being on defense. Called a "team player" and a "playmaker", Mezenberg is there to help with the assist.
In 2018, Mezenberg and the Guelph Predators U19 team won the provincial championships, a big year-end tournament in ringette. This led to the team representing Team Ontario at the Canadian Ringette Championships in PEI. in April 2019 in Summerside and Charlottetown.
Mezenberg said it was her first time winning provincial championships and it was "beyond unreal" when she placed first at the U19 championships.
"I love my gray and yellow jerseys in Guelph, but it's definitely a different experience to wear red and support your province," said Mezenberg.
"We were national champions for 2019, 2020 and 2021 in theory because there was nobody left after COVID (came)."
While the victory is unforgettable, one of Mezenberg's favorite memories of that tournament happened off the ice, when one of her teammates pulled out her guitar at the hotel.
"We all sat around a table and sang, laughed, chatted and enjoyed each other's company, and that was probably one of the most fun things of the whole weekend. It made us a team, it made us a family and it brought us all together.
Off the jersey, Mezenberg can also be seen in black and white stripes on the ice. Mezenberg said she started officiating at 14 and it was a way for her to give back to the sport and help young children learn the rules. She participated as a referee in a provincial U12 tournament and in matches for the U14 and U15 divisions.
"You honestly start to appreciate referees more," Mezenberg said of his refereeing experiences, adding that all of his family members are referees as well.
"She would be very nice and very nice to the kids and let them know what the fault was and it was very nice to work with her," Chane said of Mezenberg, adding that one of his daughters is considering becoming a referee. thanks to her.
"I think she inspires other girls to become referees, and not just ringette, but also to do other things within the association."
Now, Mezenberg is the manager of the University of Guelph ringette team and a third-year biomedical toxicology student. When she graduates, Mezenberg hopes to one day coach like her parents did and play in the adult shinny league Guelph Predators.
"Ringette is just a way of giving you something to do, giving you a purpose that teaches you so many important things and gives you so many important friendships, which everyone is worth being a part of."