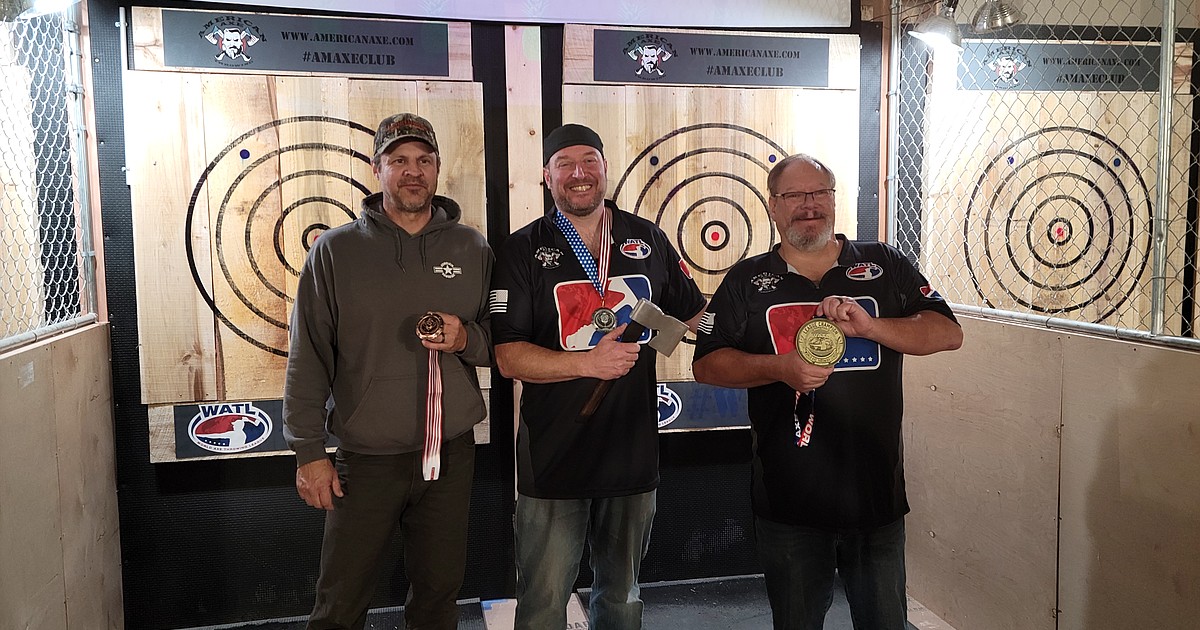 Couple get into the growing sport of ax throwing
Rachel and Jimmy Garrey have a new cutting edge family activity: ax throwing.
The couple launched American Ax Throwing in Kalispell to provide a year-round, family-friendly, 14-lane indoor recreational facility inside the former senior center on Second Avenue West.
"We focus on the whole family," Jimmy said.
Ax throwing will be open to anyone aged 10 and over when the facility opens to the public on January 1. Currently, it is only open to league participants.
Customers can train individually, compete against friends and family, or even join leagues hosted in the new site. It's all part of a growing trend the Garrey's are excited to bring to downtown Kalispell.
"The sport is exploding," Jimmy said. "Throwing things is just fun. "
The Garreys were thinking of creating a family entertainment center when they went on a date at Hank's Hatchets in Whitefish and got hooked on ax throwing. They decided to build their own lanes and connected with the World Ax Throwing League, a global ax throwing organization.
Today, Jimmy competes on the world stage through the World League, and American Ax Throwing hosts competitions affiliated with the World Organization.
Over the past two months, American Ax Throwing has served as the venue for two World League Championships – an eight-week Standard Hatchet competition and a nine-hour marathon, which Jimmy won.
Going forward, Rachel said she wanted to offer membership options at their facility so die-hard competitors can access the lanes at any time of the day to practice throwing.
Jimmy has also started building his own axes with custom heads and handles for those who really want a specialist approach.
"We sleep, drink and eat axes," Rachel said.
ALTHOUGH the Garreys are all about sport, they want American ax throwing to be open to everyone.
"We want a welcoming environment," said Rachel.
American Ax Throwing will host World Ax Throwing League Certified Coaches to help introduce potential athletes to the technique. The building, which has been completely renovated, is also fully accessible to Americans with disabilities. The company will also offer discounts to veterans and first responders.
Rachel said they recognize that the idea of ​​ax throwing can be intimidating, but they want to make the sport accessible to everyone.
Rachel and Jimmy both gushed over the gratifying feeling they get whenever they see someone's face the first time their ax goes into a target.
To provide this opportunity for young children, the Garreys are considering adding alternative ax throwing possibilities, such as soft axes that stick with magnets or velcro. Their 11-year-old son is a good test subject for their efforts to accommodate a younger crowd.
"We take safety seriously," said Rachel, emphasizing their concern for the family. Unlike some sites, American Ax Throwing does not allow alcohol in the facility.
In addition to ax throwing, the 6,000 square foot facility will offer a range of additional activity options. Downstairs, the Garreys include an arcade, pool tables, foosball, shuffleboard, and a gourmet soda bar with concessions. There will also be a stage for live music and a private room for parties.
In the summer, they hope to bring in food trucks and offer mobile ax throws at farmers' markets and other events.
"We have ambitious plans," Rachel said. "It'll be fun."
American Ax Throwing is located at 403 Second Ave. W. in Kalispell.
Journalist Bret Anne Serbin can be reached at 406-758-4459 or [email protected]